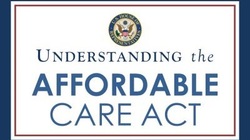 IRS has provided a procedure under which many taxpayers who are unable to repay any excess advance payments of the Affordable Care Act (ACA)'s premium credit for the 2014 tax year by the due date of their 2014 return, or who have an underpayment of estimated tax attributable to that excess, can obtain relief from the late payment penalty and/or the underpayment of estimated tax penalty.

Individuals that choose to have the credit paid in advance to their insurance company to lower what they pay for their monthly premiums, and then reconcile the amount paid in advance with the actual credit computed when they file their tax return will have some relief. A taxpayer claims the premium tax credit on the income tax return for the tax year of coverage, then must reconcile the amount of premium tax credit allowed on the tax return with advance credit payments. If advance credit payments are more than the premium tax credit allowed on the return, the difference (excess advance payments) is treated as additional tax and may result in either a smaller refund or a larger balance due.

The tax Code imposes a penalty on a failure to pay (on or before the due date for payment, including any extension of time for payment) an amount shown as tax on any return or in the case of an underpayment. However, the Code allows for the penalty to not imposed if the taxpayer shows that the failure was due to reasonable cause and not willful neglect. In general, individuals must pay the tax shown on the return by April 15. Additionally, the IRS will waive the penalty for tax year 2014 for an underpayment of estimated tax for taxpayers who have an underpayment attributable to excess advance credit payments if the taxpayers (i) are otherwise current with their filing and payment obligations; and (ii) report the amount of the excess advance credit payments on a 2014 tax return timely filed, including extensions.

To request a waiver of the penalty as provided in the Notice, taxpayers should check box A in Part II of Form 2210, complete page 1 of the form, and include the form with their return, along with the statement: "Received excess advance payment of the premium tax credit." Taxpayers do not need to attach documentation from the Exchange, explain the circumstances under which they received an excess advance payment, or complete any page other than page 1 of the Form 2210.Taxpayers also do not need to figure the amount of penalty for the penalty to be waived.